Op.Cit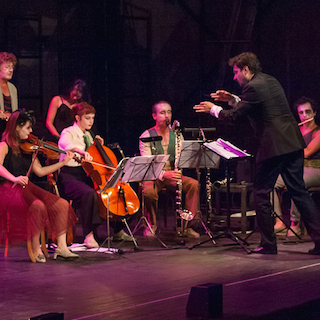 Op.Cit, Orchestra for the city, is a multi-faeted musical Ensemble who ventures into fertiles grounds at the crossing of classical and improvised music.
Each new project is a quest for unheard matters and emotions. The musicians from Op.Cit are organized in two components : a string quartet and a trio made of a piano, a bass, and a drumset. The work of the ensemble, lead by its conductor and artistic director, Guillaume Bourgogne, sets itself in the inspiration from the contemporary world and its different artistic expressions. Op.Cit invites for his new creations soloists from other musical universe such as Jazz, Electronic musics or Traditional musics. He also can involve artists from other artistic fields : dance, theatre, fine arts or digital arts…
The Ensemble regularly attends the important events within the "Biennales de Lyon" (*Biennale : event that occurs every two years) : the Comtemporary Art Biennale, and the the Biennale called "Music on Stage". He also proposed three concerts with the "Les Solistes de Lyon" lead by Bernard Tétu during the Cage and Satie exhibition in the Contemporary Art Museum in Lyon in 2012.
Le Cabaret Lunaire was created in 2013 in Chambery and in the Theatre de la Renaissance in Lyon . Project derived out of the "Pierrot Lunaire" from Schönberg, with the collaboration of the director and actor Pierre Meunier, from
In 2015, the Op.Cit Ensemble has invited the flute player and vocalist Malik Mezzadri (alias Magic Malik) for a set of concerts . Creation at the "Theatre de la Croix-Rousse" in Lyon, and concert tour in November and December. Op.Cit Malik is the creation of a piece from the pianist and improviser Alessandros Markeas, and a piece from Malik Mezzadri.
---
Proposed programs
This creation in 2015 proposes a piece from the flute player Malik Mezzadri and an piece from the composer, pianist and improviser Alessandros Markeas.
---
Agenda
13 October 2018 à 20h30

L'ensemble OP.CIT et les MUSIQUES A OUIR se produisent conjointement sur la Scène Nationale de l'Arc, au Creusot http://www.larcscenenationale.fr/spectacles/the-kuhn-concert

8 February 2017 à 21h00

A l'occasion de la sortie du disque "Pavage pour l'Aile d'un Papillon", composition de Malik Mezzadri, le label Onze heure Onze et l'ensemlbe Op.Cit organisent ce concert parisien.

23 December 2016 à 18h00

L'ensemble OP.CIT, en partenariat avec MUSIQUES A OUIR, travaille au Lavoir moderne sur les fondations de son futur spectacle "The Kühn Concert", autour du compositeur allemand Joachim Kühn. A l'issue de cette première résidence, une présentation publique de l'ébauche sera proposée aux public, à 18h. La Lavoir Moderne Parisien; 35 rue Leon - 75018 PARIS

3 July 2015 à 20h00

For the two unique dates in George Benson's tour in France, Tribute to Nat King Cole, the musicians from Op.Cit perform with the famous artist.

23 June 2015 à 20h30

A jazz trio and a string quarter will play with the flute player Malik Maezzadri, also known as Magic Malik. In addition, Guillaume Bourgogne has asked Alessandros Markeas, composer, piano player and improviser, to join and write a piece for this creation.
---
---
---