Ensemble De Caelis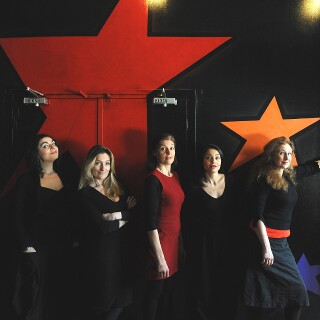 Created in 1998 under the artistic leadership of Laurence Brisset, the De Caelis Ensemble is specialized in the interpretation of medieval unaccompanied repertoire.
With a real passion for this not so well known repertoire, De Caelis works out the interprétation of this music based on deep knowledge  of the sources, the notations, and the historical context of the different piece. De Caelis is famous for the quality of the lively and original interpretations,  by the specialists and by the general public.
---
Agenda
L'ensemble De Caelis donnera un tout nouveau programme de musique dans le cadre des rencontres de musique médiévale et renaissance de la ville de Blain. Ce programme propose de la musique vocale et instrumentale profane de la fin du Moyen Âge dans les cours d'Avignon et de l'Italie du nord, puisée principalement dans deux manuscrits, le Codex Chantilly, l'une des plus riches collections de musique française du XIVe siècle et le Codex Squarcialupi composé à Florence au début du XV e siècle, contenant la musique du XIV e siècle italien. Lieu :Eglise Saint LaurentPlace Jean Guihard44130 Blain

Read more: De Caelis - Rencontres de musique médiévale de Blain

19 May 2017 à 20h30

L'ensemble DE CAELIS donnera deux concerts au Theâtre de l'Eclat le Vendredi 19 Mai à 17h00 (concert scolaire) et à 20h30 (tous publics).Le programme donné sera "Vous avez dit médiéval"

27 January 2017 à 19h00

L'ensemble DE CAELIS se produit au Musée de Cluny avec son programme " Le Livre d'Alienor"

16 December 2016 à 20h00

L'ensemble DE CAELIS commencera un travail de résidence artistique en harmonie avec les expositions du musée. Une création avec le compositeur Jonathan BELL sera faite lors de ce premier concert.

18 September 2016 à 20h00

Eglise Notre Dame - Saint Dié des Vosges

L'ensemble De Caelis a l'honneur d'être convié une nouvelle fois par le Festival Voix et Routes Romanes, édition 2016, sur sa thématique "Ordre et Chaos"
---
---
---